Professional Video Production Webinar:
Learn some of the secrets to professional broadcast level television production for to key players in the visual media industry. Avid helped define what digital video production is today and Bad Robots have been behind hits like Lost, Mission Impossible and Star Trek. This webinar is free and if you are looking to improve your knowledge as a professional practitioner or simply learn enough to get started this is a must see event.
To register or for more information, follow this link to the Avid site.
Monday Dec 10, 2pm EST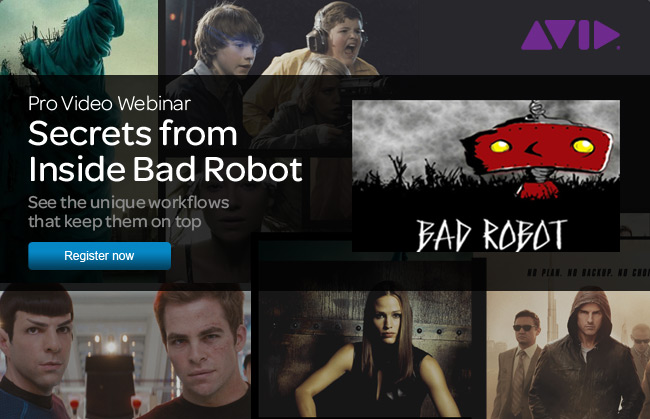 This is a FREE webinar!
If you've watched any popular TV show or film in the past few years, you've no doubt seen the redheaded robot logo at the end of every Bad Robot production. Now get an exclusive behind-the-scenes look at the inner workings of one of Hollywood's hottest film/TV production companies, which features Avid© solutions at its core, by signing up to attend this special Avid webinar.
Join Avid's Matt Feury and Bad Robot's editorial, sound, and VFX teams for a discussion on the unique workflows the teams are using to create the upcoming movie, Star Trek into Darkness.
See how Avid workflow collaboration enables the teams to create more inspired content faster
Hear how the editors create full 5.1 temp audio mixes in Media Composer© while
they cut
Gain insight into J.J. Abram's workflow and the special elements that he himself creates
Get your questions answered by the Bad Robot team in a live Q&A

… and don't forget to "LikeUs" on Facebook…